If we do not prevent it, on January 10, the railway section between Port Aventura, Salou and Cambrils is no service. The stations of the center of Salou and Cambrils will disappear, and the 675,000 annual users of these stations will have as their only alternative the bus, which takes more than double, or stations away 30 minutes on foot. The Port Aventura station, which theoretically must serve Salou, is left with only four daily services to Barcelona. Tarragona city loses the circulation of the Euromed. The R16 Barcelona-Tortosa does not improve neither frequency nor travel time, the relationship in conventional between the Lands of the Ebro and Barcelona passing through Tarragona city being compromised in the future. Tarragona is the only province in the Mediterranean Corridor where there will be no intermodality between the high-speed network and the conventional rail network.
It is the worst attack against the railroad that has been perpetrated in democracy. The myopia of some mayors, the clamorous inaction of the Generalitat and the lack of interest of the Ministry have brought us here.
To make our protest felt, the PTP (Association for the Promotion of Public Transport) and the PDF (Platform in Defense of the Campo de Tarragona Railroad) convened a rally in the Tarragona station square, on December 14 at 12 hours. We ask you to join us on this day! There will be cake, noise and some funny surprise. We must make our voice heard!
For more information you can also visit the pdfcamp.org website and disseminate through the networks with the #SalvemLiniaSalouCambrils or by directly sharing our Facebook event or Twitter and Instagram publications.
From Barcelona we will go with the train that leaves at 09:58 from "Estació de Sants" (or if you do better at 9:43 from the "Estació de França", 9:53 from "Passeig de Gràcia"). We will meet in the first car and along the way we will take the opportunity to inform users. The return can be done at 13:26, arriving in Barcelona at 14:55, or stay to eat in Tarragona and take the opportunity to do some tourism.
FC defense concentration
Date and time: December 14, 2019 at 12 noon
Place: Tarragona Urban Station
Schedule this with Google Calendar!
DOWNLOAD THE ACT DIFFUSION POSTERS HERE
Poster of the concentration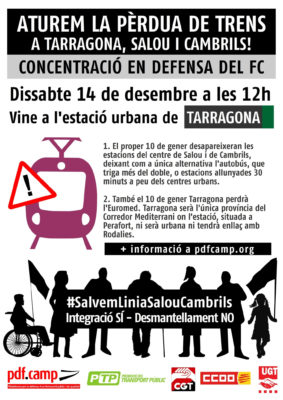 Informative poster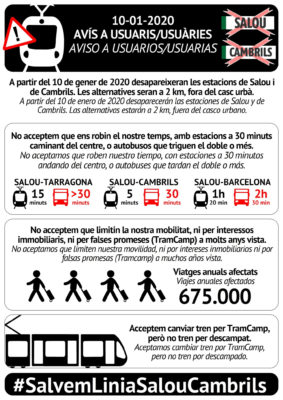 Do you want to build your own banner?
Download your own banner here. All you have to do is print it on 4 DINA4 sheets and paste them in the same order as shown in the image below. So, you can come with your banner or you can hang it where you think it is most needed!
Descargatu propia pancarta. Todo lo que tienes que hacer es imprimirla en 4 hojas DINA4 y pegarlos en el mismo orden que aparece en la imagen de aquí abajo. Así, podrás venir con tu pancarta o podrás colgarla allí donde creas que más falta hace!