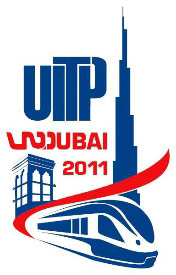 ■ The nomination of Train 2014 plan as finalist is the first recognition reached by PTP, and it comes from the most important institution claiming for the public transport, composed by authorities and operators from around the world.

■ Train 2014 unofficial plan was proposed in Public Transport Advocacy category and competes with nominations from Canada, Mexico, Brazil and Sweden. The award will be delivered on 14th March, 2011 in Dubai.
■ 155 projects from 43 countries have been presented for the awards.

Last January, 2011, PTP association promoted the Train 2014 unofficial rail plan for the PTx2 awards of International Union for Public Transport (UITP), in the context of UITP proposal for duplicating the public transport users by 2025. UITP is formed by more than 3,400 members of 92 countries around the world.
Train 2014 rail plan awards the Public Transport Advocacy category because it's a project for duplicating the railway supply in crowded areas, like the Mediterranean Corridor or the urban tunnels in Barcelona. Train 2014 plan was born in 2006-2007 as a reaction against a policy of pharaonic infrastructures with poor results in Catalonia. With the same cost of one high speed line direct between Lleida and Girona (they will be connected with other High Speed Line near the coast) Train 2014 proposes interventions in 782 km of new or old enlarged capacity or updated tracks. The focus of Train 2014 are local, regional and freight trains, that have been forgotten in recent years, even when they are essential for the economical productivity. Train 2014 is a gradual plan that, step by step, reaches significant improvements in terms of capacity, commercial speed and accessibility. In the final scenario it contemplates separated corridors according to commercial speed, including passenger and freight services. The project also contemplates tracks able to host trains in UIC gauge and the use of high speed line (now with UIC gauge) in order to increase commercial speed in regional trains in Catalan scale. In Barcelona there is a proposal of a third Iberian gauge corridor in order to separate the current lines with no more than 2 lines by each tunnel. The main objective is to duplicate the rail capacity across the city.
In addition to this international recognition we remember that in 2008 Train 2014 achieved supports of three parties in Catalan Parliament: ICV-EUiA, ERC and CiU. The new Catalan Government, composed by CiU, undertake to check the current rail planning in Catalonia according to Train 2014 plan, as it was contemplated in their election program.
Finalists for the PTX2 awards of UITP
155 applicants from 43 countries
35 finalists in 7 categories
4 applicants from Spain; 3 from Catalonia and 1 from Madrid
Categories

Finalists (5)

Daring Ambition Award

Abu Dhabi Department of Transport – UAE

Istanbul Electric, Tram and Tunnel General Directorate – Turkey

Lagos Metropolitan Area Transport Authority – Nigeria

Land Transport Authority – Singapore

Shanghai Municipal Transport and Port Authority – China

Finance Innovation Award

Compañía Uruguaya de Transportes Colectivos S.A. – Uruguay

Infraestructures Ferroviàries de Catalunya – Spain

MTR Corporation Limited China – China

Syarikat Prasarana Negara Berhad – Malaysia

TransLink Transit Authority – Australia

Knowledge & Research Award

Centre of Excellence in Urban Transport, CEPT University – India

Institute of Transport Studies, Monash University – Australia

Land Transport Authority – Singapore

The Swedish Public Transport Association (Svensk Kollektivtrafik) – Sweden

University of Washington – USA

Political Commitment Award

Generalitat de Catalunya – Spain

Karnataka State Road Transport Corporation – India

Lagos Metropolitan Area Transport Authority – Nigeria

Sofia Municipality – Bulgaria

Transport for London – UK

Public Transport Advocacy Award

Associació per a la Promoció del Transport Públic – Spain

 

Canadian Urban Transit Association – Canada

Center for Sustainable Transport – Mexico

Federação das Empresas de Transporte de Passageiros do Estado do Rio de Janeiro – Brazil

The Swedish Public Transport Association (Svensk Kollektivtrafik) – Sweden

Service Improvement Award

Anbessa City Bus Service Enterprise – Ethiopia

Azienda Trasporti Bergamo – Italy

Izmir Metropolitan Municipality, ESHOT General Directorate – Turkey

Public Transport Authority of North Denmark – Denmark

Wiener Linien – Austria

Technology & Innovation Award

Bombardier Transportation – Germany

Empresa Municipal de Transportes de Madrid – Spain

Foothill Transit, Veolia Transportation – USA

Minnesota Valley Transit Authority – USA

Vix-ERG – France
More information:

International Union for Public Transport

TRAIN 2014 PLAN (PTP website)