The European Mobility Exhibition has accepted Ricard Riol Jurado for the European awards for public transport, for its initiatives to publicize and defend sustainable mobility. Until May 14th, you can also support Ricard, who wants to highlight the importance of social movements supporting public transport.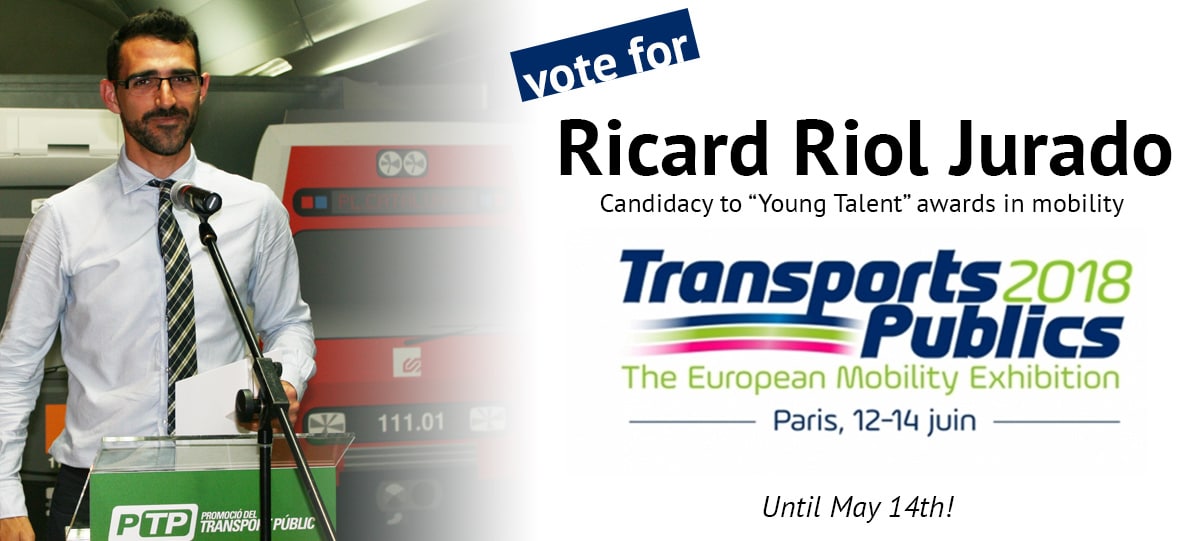 Voting is easy!
You only need to go to the webpage for voting and to have a valid e-mail. Here we show the steps: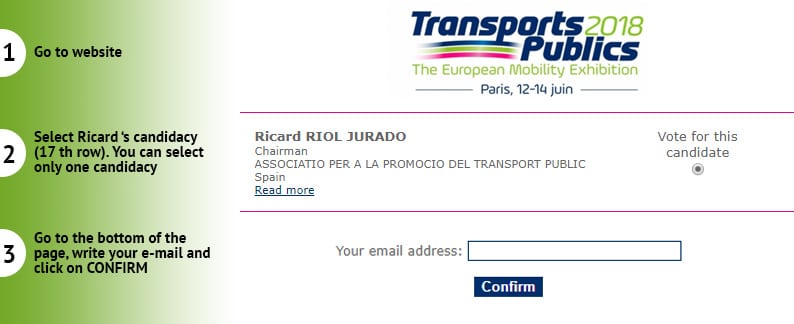 Ricard Riol's candidacy for best young talent is not just a recognition of his personal achievements and professional career; it is above all a message of support for youth everywhere in the world regardless of origin or opportunity who demand public transport.
Why to vote for Ricard?
Ricard Riol Jurado, born in Tarragona in 1982, has dedicated his entire professional career as well as his private life to defending public transport. The son of a working family, he grew up and received his education in l'Hospitalet de Llobregat, a city bordering Barcelona where public transport plays a critical role in guaranteeing personal autonomy and equal opportunity for citizens, a place where there are few private vehicles due to a lack of space and economy reasons. He is currently president of the Association for the Promotion of Public Transport (PTP).
[smartslider3 slider=10]
Even as a very young child, he showed a keen interest in the world of railways and urban planning. At the age of 12, he was given his first trade magazine, on railways. From that day forward, he has continued to educate himself in different fields, while simultaneously pursuing a degree in public works engineering at the Polytechnic University of Catalonia.
Starting when he was 14, he experienced first-hand the local and political controversy of the announced reintroduction of the tramway in the Barcelona metropolitan area. At the time there was only one tram line in Spain, in Valencia, and there was a general lack of understanding among the populace of the advantages of this kind of transport. At the age of 17, concerned about growing rejection of the tramway in some sectors, he decided to take direct action. Although he had no internet at home, he learned how to make websites and spent some of his savings to make thousands of photocopies to launch his first awareness campaign advocating for the Barcelona tramway: "Sí al Trambaix. Sí al Transporte Público" (Yes to the Trambaix. Yes to public transport.). He launched his website in 2000, years ahead of the official website. He also wrote regularly for the newspapers and was an active participant in debates, singlehandedly taking on the project's opponents, who were quite numerous.
A while later, he joined the Association for the Promotion of Public Transport, where he discovered people who shared his concerns, a great experience for him. In 2001 he was given the task of promoting communication and advocating for different sustainable mobility projects. While at the association, he designed awareness campaigns and drafted technical proposals to improve public bus and rail service in the Barcelona and Tarragona metropolitan areas. One of the most recognised examples of his work was the "Tren 2014" (Train 2014) project for Catalonia, a finalist in the International Association of Public Transport's 2011 PTx2 Awards in the category of promoting public transport.
Ten years ago, in 2007, he was elected president of the PTP, becoming one of the most visible faces advocating public transport in Barcelona. His leadership of the association has been founded on combining activism with drafting technical proposals that are as concrete as possible. During his presidency, the association significantly increased its impact on public opinion and doubled its membership.
One of his most outstanding projects was an unprecedented demonstration of the execution of a bus lane on a motorway to access the Catalan capital, executed in conjunction with the Catalan Traffic Service. The proposal was approved years later, but is still awaiting an agreement to implement it. He also created the first comprehensive diagnosis of the competitiveness of the Spanish railway system, in the Tren 2020 Plan (Train 2020 Plan), putting forward an infrastructure plan focused on day-to-day mobility and not just on breaking high-speed records. This plan proposed taking advantage of the existing railway network using fixed timetables and inter-line connections, as well as a set of good practices to revitalise suburban and regional lines based on the example set by Ferrocarrils de la Generalitat de Catalunya.
He also executed an ambitious project on creating a technical definition for the tramway in the central section of Avinguda Diagonal and to advocate for its implementation, which involved the creation a large amount of graphic and audio-visual material to help the general public understand the project. In 2010 he implemented a project to determine the space occupied by 200 people travelling by car, bus, tram, bicycle or on foot to support greater sustainable mobility in Barcelona as part of the "Diagonal per a Tothom" (Diagonal for All) platform, for which he was recognised by the Barcelona Agenda 21 awards in 2010.
His academic works include a monograph on the energy consumed by different modes of transport for the Spanish Railway Foundation, and several articles for specialist magazines. He has also taught at the UPC, the UB and trade unions. He has worked to raise awareness about the advantages of public transport through infographics and videos that are accessible to the general public.
For Riol, defending collective mobility to improve quality of life has been a driving force for lifelong learning, involving everything from the creation of websites to graphic design, to video editing, to programming, and much more.
Ricard Riol's candidacy for best young talent is not just a recognition of his personal achievements and professional career; it is above all a message of support for youth everywhere in the world regardless of origin or opportunity who demand public transport. We need to keep traveling together for a better world.